Dear Creatives,
I hope you are finding enough rest and peace in the Rahui to ease the problems we all share at this unfamiliar time. I am working from home. At present I am engaged in a thorough stock take of the products I was able to bring home. 
Untill I finish this work the buy button has been disabled.
I will send a newsletter once I am ready to receive orders again.You are welcome to email me in advance to get in the queue for the stock I do have available.
Please read the Pandemic Plan on the home page.
Keep well & keep creating!
Kindest regards, Carla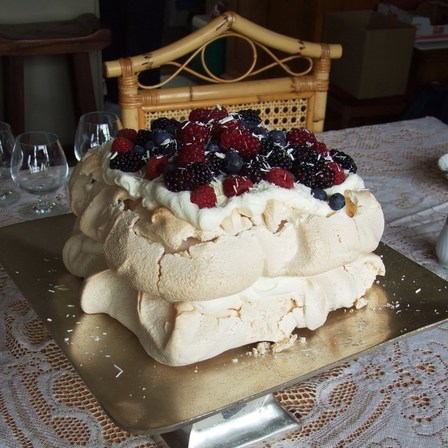 Christmas 2010 in Taihape NZ I am layering the pavlova with cream, fresh fruit and white chocolate curls.

There is a sigh from dear old mum. She ponders out loud 'Carla, I don't know why your pavlovas have to be so obnoxious'. More declaration than question I will have you know.

I raised and eyebrow! (Actually I wish I could - I only seem able to frown and rise in unison) Grinning like the mischief I am, I declared that all my pavlovas from now on will be referred to as Pavloova Obnoxii.
Mum grunts.
See my Pavloova Obnoxii on Pinterest
Posted: Saturday 25 December 2010