| | | |
| --- | --- | --- |
| | | After a small dabble at a pottery club back in my picket fence years I always wanted to learn more. In recent years I took to watching the BBC's Great Pottery Throwdown. Each week, cup of tea in hand I would sit waiting for 7pm to roll round. The show introduced so very many more ideas than I had experienced! I was hooked! Of course this was followed by accidentally getting a contract in a production pottery.... driving a keyboard, nothing very pottery. But I got to listen to pottery people! It was wonderful! Then I started buying my own equipment! |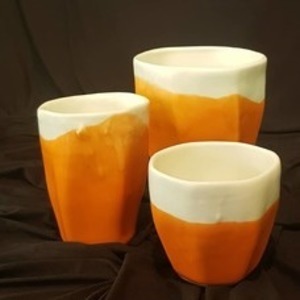 This is the start of my casting story...
I make these cast porcelain tumblers as a nod to the old style glass I remember my grandfather using. The dimples round the base settle into your hand when you hold it.
My first shape is named for Geoff, then I formed a finer shape, this I named for my grandmother, Edith. These two wee tumblers take about 180ml
My third shape in this series I made when my niece wanted a water glass. This one holds about 500mls and I have named it Frankie for the name she and my dad share. It is pretty good for a very icy, very tall glass of G&T too.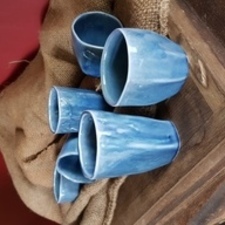 Blue Eyes - Glaze
This is such a nostalgic colour. A glorious blue with tons of character. The highlights and tones remind me of smiling blue eyes.
This teams up really well with Saddle & Willow. Like matching denim with a white shirt and tan boots....classic!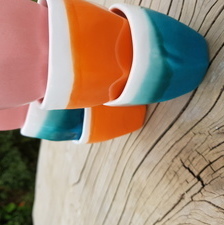 Pop Glazes
I totally love these! I call them Cecil's Rose, Nasturtium & Waterfall. The White porcelain shows through a clear glaze with a Pop of colour thrown about the outside.
I have added a bright white glaze to mix up this range too.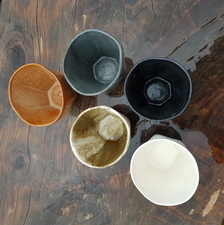 Elemental Glaze
OK, so let's be clear these need a little more work. Over there on the middle/left that was meant to be called Mist.... In reality it turned out more like "got the landrover stuck in the mud near the cattle stop"
I'm wanting to acheive a collection of matte white, speckled white, grey and near black. I think I will have another go at Mist one day soon
I'm pretty happy with Saddle & Willow. They team up really well with Blue Eyes.
My pottery is also available from

Feilding Art Centre
The Square Edge Shop
Alternatively, use the purchase options at the top to make your bespoke order or buy pottery I have ready
My production can deliver small batches each week after a 10 day batch start
Best to have a very serious conversation if your deadline needs to be firm