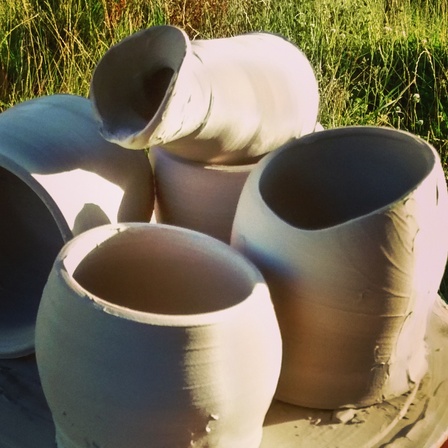 My first evening at the local pottery club was late last year. I finally made it back there last week!

This business of busy-ness has so much to answer for when it comes to creative realisation. It is never a lack of inspiration - woooah! that inspiration is layered everywhere! But it is with determination that I am making time and space to experience my clay story.

At the centre of this determination are two main threads. I think that by sharing my clay story I can help others to cover off the basics as I go. Then the deeper, more personal goal is to move from muddling to proficiency in my clay story.
Anyway.... back to last week. I was at the club and really wanted to start this experience. I knew I really needed to learn all about this wedging and kneading. But I just hadn't done my research!

The thing about clay is it is always recyclable. Every wash and scrap can be accumulated and used again. Green ware can be sent back to the soak bucket and brought through the clay working process again.

It is because of this that I jumped right in the centre and took unprepared balls of clay to the wheel.

Yeeeha! I was out of control!

With little more real knowledge than a decade old memory and inspiration from Demi Moore, I wobbled and wonked to a small collection of shapes.

There will be time for reflection later, but for now!!! - I have started!

This is #thistleburnpottery - my clay story.
Posted: Friday 10 February 2017