The 'triangle' in Taihape, proudly displays hand formed tiles that resulted from an initiative by the Taihape & District Community Arts Council. These tiles display the names and art of Taihape people, organisations and businesses.
There is also a record of those, who in 1994 re-enacted the first European settlers traverse of the Ruahine ranges as a 100 year commemoration.
Another quarter century is nearly upon us.
I am leading a project to decorate another set of tiles as a community art installation. The project is called...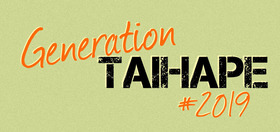 Please join in as you can
September 8, 2019 Installation of the first few tiles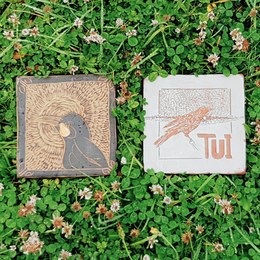 The Look for Generation Taihape
Generation Taihape will be achieved with in a sgraffito style.
A terracotta tile is painted with a coat of black or white clay slip. The workshop guests will then scratch their design into to slip revealing the terracotta.
The tiles are then stored while they dry before undergoing two firings. Before the second firing I will apply understated colour highlights to most of the tiles.
Generation Taihape tiles will be visually distinct from the original project yet with a similar size to give a sense of cohesion.