Please Phone
Although parts of my website are improving, nothing beats old fashioned customer service.
Please call Carla on 027 283 7662
You can ask questions and get customer service now.
(as long as it isn't "Unreasonable O'clock" thanks!)
Changes
I have changed from a bricks and mortar shop to a mobile service with a website during Rahui.
This is a physical move, a 100% stock take and the working out how to communicate tens of thousands of stock lines. It's a big job.
Where the website doesn't help you yet I will.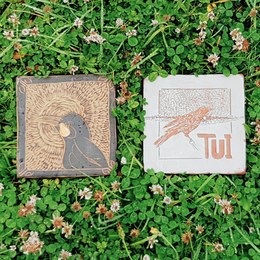 Attend a one-hour Sgraffito Experience at Do-i
Do-i……….? Yes….. Do-i !
the creative space at the back of Fluffymilk.com, 321 Main Street, Palmerston North

Take an after-work hour, learning and make your own personalised rustic tile.

Experience this groovy decorative method for decorating raw pottery. I will help you plan and do your own tile. These are groovy for newborn records, pet memorials or just your favourite art style.

***I will look after your tile while it dries and take it through the two firing processes. Then you can pick up your finished work.***

Have a look at other tile work I am doing at https://www.facebook.com/groups/GenerationTaihape/

Need to know a bit more?

The greatest thing about sharing my creative experiences is watching the results achieved by people who once believed that they were not creative!

Sgraffito Experience runs from 5.15pm to 6.15pm and covers some planning and tool use skills. All you need to decorate your tile is provided.

You are welcome to bring your cuppa or cold drink in with you. This is a groovy afterwork break scheduled to sneak some creativity into your busy life.

Tickets sold through fluffymilk.com.
Door sales between 4.45 & 5.10 if any spaces are available.

Sessions
Friday 14 June
Monday 19 August
Please note this ticket is only for this date and is not transferable.