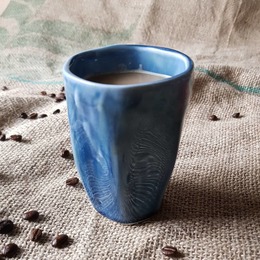 I have made these cast porcelain tumblers as a nod to the old style glass I remember my grandfather using. The dimples round the base settle into your hand when you hold it.

This is 'Edith' the second shape in this series.

Each piece varies as they have come through a hand made casting, finishing and glazing process.

Approximate measurements
200ml
100mm tall
75mm widest

The glaze effects are
Nasturtium (orange)
Cecil's Rose (pink)
Waterfall (green)
Blue Eyes (blue)


If you are happy to wait for production I can make more stock in the glaze selections you choose.

Look for casting workshops to learn how to make this style of pottery.