Soft Colour Circles
Tutor: Gill Allen BFA Cert FET
1.5 hour - Introduction to using Charcoal & Soft Pastel
With a stunning variety of colours at your fingertips, soft pastel is an exciting and immediate medium to explore. Charcoal brings immediacy and contrast. In this session, you will get to know the feel of soft pastels & charcoal by playing in a variety of ways to produce visual texture.
Bring or Buy List
Provided: All materials.
NZ$ 35.00
Full refund will be made if your ticket date falls into Covid Alert 2, 3 or 4. Read T&C for other details.
Held at Do-I, our collaborative workshop space in Shop 2, 89 Broadway Avenue, Palmerston North
Maximum guests: 6
Minimum guests: 3
Prepared for adult and youth. No previous experience needed.
Offered as a stand-alone session, but if this journey becomes your go to thing watch for more sessions announced in the coming months.
Gill Allen BFA Cert FET
Born in Malvern in Worcestershire in the United Kingdom, Gill moved with her family to the Isle of Wight growing up surrounded by beautiful rolling hills and wildflower filled meadows. Always struck by the hypnotic peace of the countryside she would walk for hours absorbing it's forever changing colours and flora. Gill qualified Otago Art School with a Bachelor of Fine Art in 1997 and later went on to undertake a City and Guilds in Further Education Teaching in England; teaching in both the UK and New Zealand. With a love for landscape, still life and flowers, Gill captures moments in time in a variety of media; examples of her work can be found on her website GillsArtSpot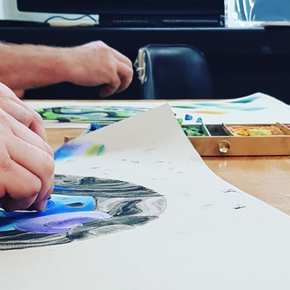 Venue: Doi
Shop 2 The Gap101 Arcade, 89 Broadway Avenue, Palmerston North
Make A Booking